Building pipelines.lsst.io with Jenkins (sqre/infra/documenteer)¶
pipelines.lsst.io is automatically built and deployed for each lsst_distrib build. You don't manually build and update the website when you contribute to the pipelines_lsst_io documentation repository.
You can, however, preview a development branch of the pipelines_lsst_io repository by manually running the sqre/infra/documenteer Jenkins CI job. Since pipelines.lsst.io is published through LSST the Docs, builds for development branches appear as new editions from the pipelines.lsst.io/v version dashboard.
Important
You can't use this Jenkins CI job to test development branches of packages with the pipelines.lsst.io site build. This Jenkins CI job always uses packages corresponding to a released EUPS tag (such as a daily, weekly, or stable release). Only the branch of the pipelines_lsst_io repository can be modified.
If you need to build and test your package's documentation, you can do so locally with these methods:
Example¶
This section describes how most contributors will use the sqre/infra/documenteer Jenkins job: to preview a ticket branch of the pipelines_lsst_io repository. In this example, the ticket branch is called tickets/DM-16182.
First, go to the sqre/infra/documenteer job's page, then click the Run button. Then fill in the fields as shown in the following screenshot.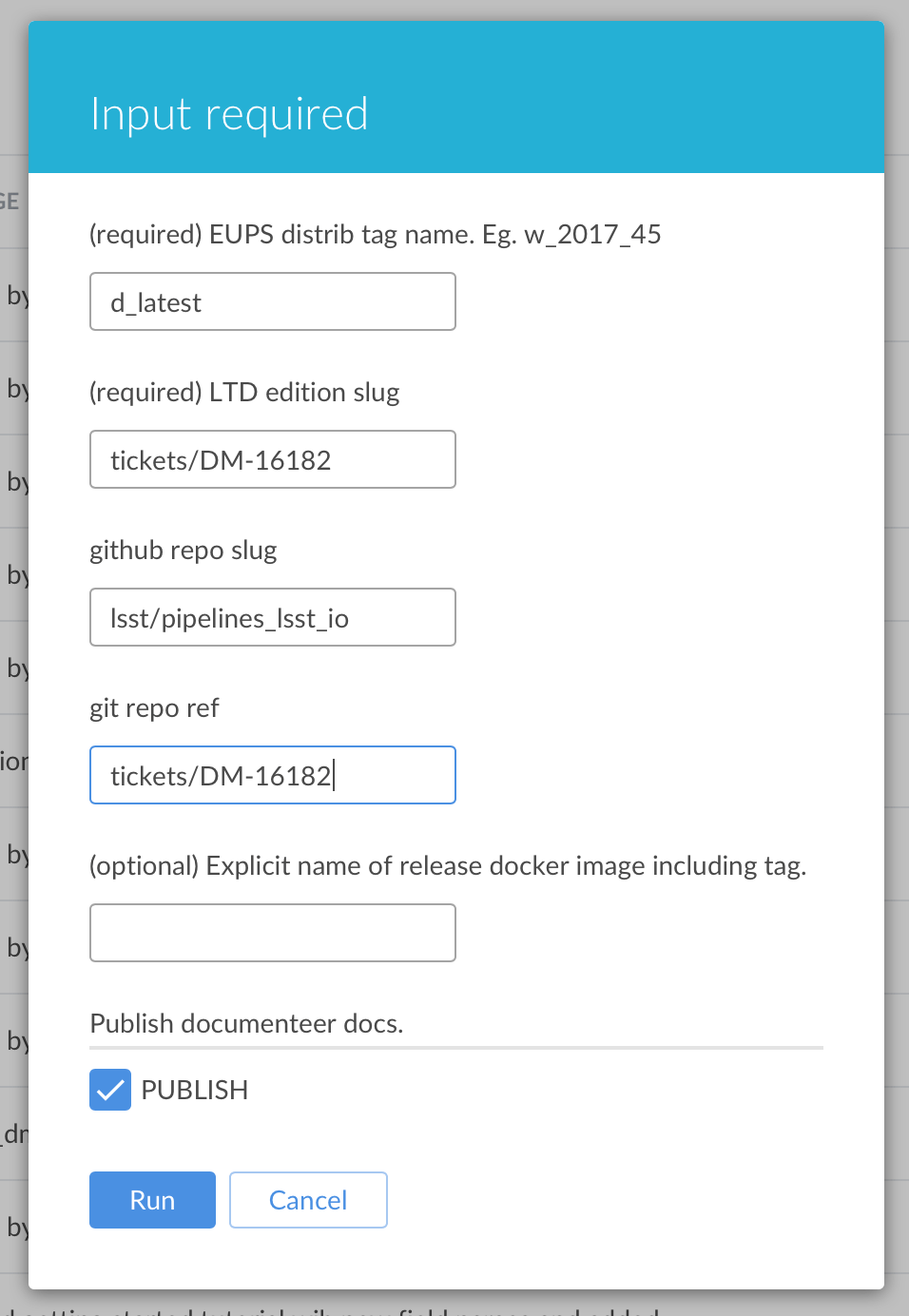 Here is more detail about each field:
EUPS distrib tag name

:

d_latest

The

d_latest

EUPS tag automatically aliases the most recent EUPS daily build tag. Using

d_latest

here is useful because when you're writing new content for the pipelines_lsst_io repository, you often want to pair it with the latest version of the

lsst_distrib

package.

LTD edition slug

:

tickets/DM-16182

LSST the Docs uses this field to build the "slug," or

/v/<slug>/

URL path prefix, for alternative documentation editions. In this case, you want to use the name of the branch in the pipelines_lsst_io repository to identify the edition as corresponding to the

tickets/DM-16182

development branch. LSST the Docs automatically transforms this value into the

/v/DM-16182

path prefix.

github repo slug

:

lsst/pipelines_lsst_io

Always use this value.

git repo ref

:

tickets/DM-16182

This field determines which branch of the GitHub repository (pipelines_lsst_io) to clone and build. Use the development ticket branch,

tickets/DM-16182

.

Publish

Leave this field checked so that the built documentation site is published to the web. You can find the edition at https://pipelines.lsst.io/v.
Field reference¶
This section has more information about each configuration field.
Viewing the results¶
Once the job successfully finishes, open pipelines.lsst.io/v and find the corresponding edition that you just built.